AMD&ART: The Project 1994 – 2005
Welcome!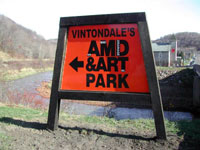 T Allan Comp, Ph.D.
Founder and Director
The AMD&ART Park in Vintondale, Pennsylvania, is situated on thirty-five acres of reclaimed mine land that once hosted the heart of this small mining town — The Vinton Colliery, a complex with major buildings and the Pennsylvania Railroad line that connected the Borough with the outside world. Bordering the northern edge of the site, that railroad bed is today the Ghost Town Rail Trail, which hosts approximately 75,000 users annually. Carving out the eastern and southern boundary is the South Branch of Blacklick Creek, a river severely impacted by AMD (acid mine drainage). Beyond the creek is the Borough of Vintondale, home to over 500 residents, many them descendants of those who first came here during the coal-mining era, roughly 1906 to 1956.
All Rights Reserved • AMD&ART 2003 – 2016 • Email: [email protected]